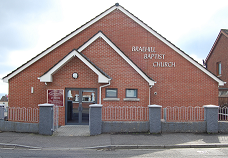 Welcome to Braehill Baptist Church
General Notices

Dispensational - Premillenial - Authorised Version
IMPORTANT: COVID-19 RESPONSE
Due to the current situation with COVID-19, all (except Wednesdays) church activities during the week such as Kids, Womens, meetings etc are suspended until further notice,
Sunday & Wednesday details are below.
Please Do not attend if showing any symptoms of Covid19• New Cough
• High Temperature
• Change in taste or smell
Any of the above then you should self-isolate for 14 Days.

If you have received a letter or Doctors advice to shield, then you should.

If you are over 70yrs then consider your vulnerably to Covid19 – Your decision – minimise contact with others if you do come.

All government advice will be adhered to. Hand sanitiser will be available along with disposible masks if required.
Masks will be required entering and leaving the Church as per Government instruction and also when singing.
Sunday 5th December 2021
10.45am - Breaking of Bread For those who are saved and walking in Obedience to the Word of God 11.30AM - Morning Worship and Ministry of God's Word
Study of Pauls letter to the Philippian Church
Speaker: Pastor Peter Skillen
3.30pm Youth Bible Class (Zoom)
No Evening Meeting at Present
Wednesday
8th December 2021
Bible Study & Prayer Meeting
7.30pm in the Church Building
Subject:<![if !supportLists]> <![endif]>
Speaker: Pastor Peter Skillen
If you have any enquiries then please contact me at:
Study to shew thyself approved unto God, a workman that needeth not to be ashamed, rightly dividing the word of truth.
2 Timothy 2:15
Sunday School & Friday KIDZ Club
Click Here for more details
All Childrens Meetings Cancelled until further notice due to the current Government guidelines

The Reading Rooms






On the first floor we have a room with various scripture reading materials on many different topics.




There is a small library of Theological books being built up and are available for lending.




Keep checking on this page for any changes to the times.

If you wish to avail of this literature feel free to contact Pastor Peter Skillen to arrange access:
Mob: 07703 360441



Pastor

And the things that thou hast heard of me among many witnesses, the same commit thou to faithful men, who shall be able to teach others also.


2 Timothy 2:22



J Sidlow Baxter::




Because He (Jesus) is really Divine He has Perfect understanding of us; and because He is really human He has a unique sympathy with us..





Encounters with God

Check out the new additions to the testimony page.

Click Here
"Although my memory's fading, I remember two things very clearly:

I am a great sinner and Christ is a great Saviour."

— John Newton